Written by Kelli Dunham, RN, BSN

Kelli is an RN with 15 years of clinical nursing experience and the author of 4 health/health professions related books, including the American Journal of Nursing Nursing Book of the Year, How to Survive and Maybe Even Love Nursing School (FA Davis, 2008, 3rd edition).
Google+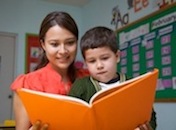 If you're a teacher frustrated with teaching itself or your inability to find a teaching job, switching to a career in nursing might make sense for you.
You'll need to assess whether nursing is a good fit, then pick a specific academic path, and then a specific program. You may consider combining both teaching and nursing by working as a nurse educator.
The articles in this section (maintained by Kelli Dunham, RN, BSN) highlight the reasons why teachers make excellent nurses and how to transition from teaching to a career in nursing.
More Resources by Kelli Dunham, RN
Reasons to Consider Nursing
Nurses Have Job Security
The demand for registered nurses varies from region to region but in general nurses, especially nurses who have at least a bachelor's degree, will continue to be in demand throughout the lifespan of anyone in beginning or mid-career today.
Despite the fact that nursing education is seriously underfunded, and although recent economic downturns have meant that the nursing shortage is growing at a slower rate than initially predicted, the employment outlook for registered nurses is still very good.
According to the federal government's Bureau of Labor Statistics, employment of registered nurses is expected to grow 26 percent from 2010 to 2020 which is faster than almost any other non-technology based profession type. In addition, nurses are the largest percentage of hospital staff and provide much of hospital patient care and long term care.
Nurses Are Reasonably Well Paid
Most nursing advocates agree that nurses are not compensated commensurate with the impact they have on healthcare outcomes. However, nurses are certainly paid a more than living wage: the average income for a registered nurse in 2010 was just over $64,000 a year. For nurses with experience, advanced degrees and specialized certifications, the number can reach as as high as $140,000 a year. For certified registered nurse anesthetists the reported average annual salary in 2005 was $160,000.
Nursing Requires a Similar Skill Set To Teaching
If you've already taught for a few years you might feel that if you switch to a nursing career, you'll have wasted your time building up your teaching skills. This is not the case; in nursing, skills like multi-tasking, being able to explain things quickly and concisely, being able to evaluate learning and understanding how people and systems and work will all come in handy. You'll even use very teaching specific skills like classroom management; if you're working on a hospital floor trying to juggle the competing demands of patients, administrators, other nurses, doctors and family members.
Nurses Make A Difference
If you're interested in profession where your skills and expertise will make a difference, nursing is a great choice for you. Nurses touch their patients and their families deeply, often during some of the most difficult times of their lives. According to Gallup Polls, nurses are consistently named among the most trusted of all professionals.
Nursing Is Time Flexible
Although theoretically school teachers have short days and long vacations, any teacher will tell you in practice, it doesn't work that way. Teachers not only have to deal with meetings involving both parents and administrators, they spend much of their off time planning lessons and grading papers. Summers are often shortened by weather emergencies as well.
In many nursing jobs, however, if you can emotionally leave your work at the job, you are really off until your next shift, especially if you can get your documentation done quickly. This means when you get to leave the hospital, you're actually done for the day. And if you're looking for a nine month schedule it's still possible: become a school nurse!
Nurses Have Career Flexibility
Classroom teachers who are burnt out or find themselves not quite right for the classroom environment have limited options for finding other jobs using their teaching degrees and expertise. "I wasn't interested in being an administrator, I don't want those kind of headaches, but it seems like the lateral options in teaching are limited unless I wanted to be a professional standardized test tutor," said Tina Ashley, a Florida teacher turned nurse. There are many choices within nursing; you can vary the type of facility where you work or the population you work and still be able to work as a nurse.
For example, if you are working in the ICU and decide you no longer want to work in the hospital, you can work in a pre-hospital setting. Or you can get a job in urgent care, or spend time working in a community health program or a primary care clinic. And if you're no longer interested in bedside or direct patient care you can work as a administrator, consultant or even as a nurse-writer.