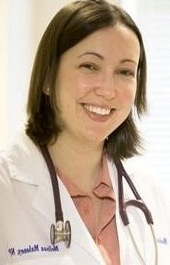 What is your current position? How did you come to be in this position?
I am an adult nurse practitioner and provide primary care to adult patients in an outpatient office setting. I knew I wanted to work in primary care so I started in my current position as a new graduate NP after spending some time working as a staff nurse on a surgical unit while becoming a NP through a direct-entry program. I interviewed at several practices and I was fortunate to find a great physician mentor whom I have worked with for three years.
What are your roles and responsibilities?
As a nurse practitioner, I work independently seeing patients in my office and addressing their primary care needs. These needs can be simple, such as a common respiratory infection or the prescription of birth control, or they can be more complex, such as the long-term management of multiple chronic diseases i.e. diabetes, hypertension, high cholesterol, depression, etc.
For each patient I take a history, perform a physical exam, order appropriate tests (labs, xrays, etc) when necessary, make a diagnosis, and work with the patient to come up with a comprehensive treatment plan (prescribed medication, lifestyle changes, other therapies, etc). With all of my patients, I spend a lot of time teaching and trying to educate them so that they have a good understanding of their health and feel empowered to make healthy choices.
What is the most fulfilling aspect of your job?
As a nurse practitioner, I really focus on wellness education with all of my patients. There is nothing more fulfilling than when one of my patients successfully implements a healthy change such as losing weight, starting an exercise program, or quitting smoking. It means they are listening! Even more importantly, it means they realize the power they have to positively impact their health through lifestyle change.
What are the challenges of your current position?
Primary care can be a challenge because it is so unpredictable—you never know what you're going to encounter on any given day in the office. Primary care NPs are well-versed generalist health care providers, but sometimes a patient's more complex needs are beyond my scope of knowledge. I am fortunate to practice in an area where specialists (physicians, NPs or physician assistants) from all branches of healthcare are easily accessible and able to provide consult or co-manage a patient's most complex medical issues.
What influenced you to go into nursing? What influenced you to choose this specialty?
My mother worked as a labor and delivery nurse on the 3-11 shift when I was growing up. As a kid, I remember looking forward to hearing stories about her shift the night before over breakfast. Because of that I knew at a very early age I wanted to go into health care. I spent my undergraduate years studying microbiology but I was drawn towards nursing when I realized I wanted to provide direct patient care. During the first year of my nursing education I discovered an interest in primary care as well as working with adolescents and older adults. That interest ultimately led me to my current practice.
What degrees or certifications would you recommend a nursing school student interested in your specialty?
Entry into nursing can be accomplished via many different pathways but NPs need a Master's degree and to pass a national certification exam in their specialty area through either the ANCC or the AANP. I became an NP through a direct-entry nursing program, a three-year, full-time program for non-nurses with a bachelor's degree in another field that trained me as both an RN and a NP. There are also more traditional programs for those who are already nurses but want to become NPs.
What would you say to someone who is considering going into nursing?
It's a decision you'll never regret! One of the unique things about nurses is that we work in a variety of different settings and there are abundant opportunities to apply your education and your nursing skills to various roles. You could practice for years in one area of nursing and then completely change gears and do something else still within the scope of nursing.
What should someone graduating with a nursing degree expect in the next few years?
Nursing is an essential profession and there will always be nursing jobs. Unfortunately, in the current economic climate, many health care institutions may be scaling back their hiring of new nurses. But I don't believe new nurses should be discouraged by this. The most important thing is to get your foot in the door of the profession and start practicing and gaining experience, even if you don't start out in your first choice or ideal job. Inevitably the economic climate will improve and then you will have valuable nursing experience that you can carry to any new role.