Consider one of the following online programs currently taking applications now:
View more online featured programs:
AD
Consider an Online Program Currently Accepting Applicants
View more online featured programs: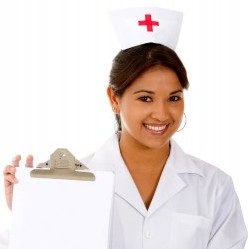 During a recent (and thankfully rare) visit to a physician's office, I wanted to ask a nurse a question. In the sea of brightly colored and dissimilarly patterned scrub-wearing people, I could not readily discern who was a nurse, receptionist, or nursing assistant. Only the physicians and nurse practitioners, in their street clothes and lab coats, were easily identifiable.
Whether or not to standardize nursing uniforms is an issue that has been hotly debated. Some argue, particularly in acute care settings, that what amounts to camouflaging nurses is a way to hide their dwindling numbers in staffing plans. Others applaud that the traditional all-in-white, cap-wearing RN has gone by the wayside.
In my case, finding a nurse was no big deal. I just asked to speak with a nurse and was quickly pointed in the right direction. (They do wear name tags in this practice, but titles are not always visible from a distance.) But under different circumstances–say, if I were hospitalized with a serious medical condition and being examined, questioned, and visited by multiple people with varying roles and responsibilities–I can see how this would be problematic. (Did my registered nurse just tell me it was okay to eat post-operatively, or was that the housekeeper?)
Some hospitals are implementing uniforms color-coded by role. Nurses at one New Mexico hospital will soon be wearing black uniforms to make them easily identifiable. Some are reverting to the all-white tradition, though in the form of scrubs and without caps. Nurses at some health care facilities are staunchly defending their desire to choose what they wear, so long as it adheres to existing dress code policies; while others are wearing white pants with any choice of top.
The way we present ourselves can and does impact the way we are perceived, not only by our patients, but also our co-workers. I've always been bewildered by those who work outside of pediatric settings but choose to wear cartoon character prints from head-to-toe. Or those who wear scrubs, not because they are so comfortable they feel like pajamas, but as though they actually were pajamas—wrinkled and ill-fitting.
Regardless of whether are not uniforms are standardized, mobdro ios
one way professionalism is expressed in by what we wear. I'm all for making nurses more visible and identifiable—both for the profession and for our patients—but I'm not sure what the answer to the uniform debate is. I do know we should take pride in whatever uniform we are wearing. For me, that means wearing pressed, blue scrubs with my large-print "RN" nametag.
Still Looking for a Nursing Program?
Here are some of the most popular nursing programs. On each page you will find a detailed writeup of the program, specific courses, and even schools that offer that program that are currently accepting applicants.