Consider one of the following online programs currently taking applications now:
View more online featured programs:
Our Database: 676 RN-BSN Programs
Top Program Accrediting Boards: CCNE & ACEN
The RN to BSN is one of the top programs for current nurses that have their Registered Nurse license, and for good reason. The Online RN to BSN is one of the top nursing programs offered entirely online, with hundreds of universities having reputable CCNE and ACEN accredited Online RN to BSN Programs. Additionally, a report by the Institute of Medicine stated the recommendation that 80% of RN's have a BSN by 2020.
+ Jump to List of Online RN to BSN Programs
We have 676 nursing schools with RN to BSN Programs in our online database.
A RN to BSN program is designed for nurses that currently have their RN licensure and are looking to advance to a Bachelors level nursing degree (Bachelor of Science in Nursing). The RN to BSN is often called a "bridge" program, meaning it helps current nurses that may only have their Associates Degree in Nursing (ADN) bridge, often while still working, to a BSN.
Why a BSN?
According a report from the Health Resources and Services Administration (HRSA) entitled The Future of the Nursing Workforce: National- and State-Level Projections, 2012-2025 (source - PDF), the demand for Registered Nurses will remain constant until 2025, as the supply will outweigh the demand.
This indicates a need for more Bachelors-educated Registered Nurses within the next few years. Simply put, because there are a high number of Registered Nurses, and nursing jobs are expected to increase at the same rate as nurses graduating, a Bachelor of Science in Nursing, or a BSN, can help distinguish Registered Nurses.
AD
Consider an Online Program Currently Accepting Applicants
View more online featured programs:
Working as a registered nurse (RN) is a rewarding career with a bright future. If you love your job taking care of patients as an RN, then you are likely in the right profession. But if you want more professional opportunities, would like to advance your education, or need a higher salary, consider getting a Bachelor of Science degree in Nursing (BSN).
According to a 2013 HRSA report, titled The U.S. Nursing Workforce: Trends in Supply and Education, only 55% of the RN workforce currently holds a baccalaureate or higher degree.
Combined with the Institute of Medicine recommendation that 80% of RN's have a BSN by 2020, more and more employers are looking at RNs that have their BSN. More studies are showing that goal is going to be difficult to meet, which is why many Registered Nurses that are currently employed are leaning toward a RN to BSN Online Program to get a leg up on the RN competition.
The Rise of Online RN to BSN Programs
What once could be obtained with two years of school now requires four years at minimum, making the choice to return to school a popular choice for associate's level nurses. RN to BSN programs provide an outlet for current associate's level nurses to gain a higher degree. The online RN to BSN is perhaps one of the most popular degrees universities bring online. Many universities utilize their current faculty to develop a strong online curriculum catering towards working Registered Nurses.
RN to BSN programs are designed to give current nurses relevant information pertaining to nursing, which nurtures a better nursing professional overall. Determining if these programs are fitting can be a daunting task, but the decision to return to school does not have to be a hard one. Any nursing professional that is looking for more knowledge and more opportunity is a great fit for these programs.
When you are looking for any online RN to BSN program in 2017, you should keep the following key points in mind:
There are a lot of online RN to BSN programs available – there are over 600 RN to BSN programs and over 100 online RN to BSN programs – be sure to compare!
It is strongly recommended to enroll in CCNE or ACEN accredited programs – there are many to choose from, and with the number of online RN to BSN programs accredited by either the CCNE or ACEN, you should be able to find at least one that works for you.
Compare tuition rates at multiple RN to BSN programs– again, because there are so many programs, universities compete with each other to find affordable RN to BSN programs. In 2017, expect tuition prices to get more competitive. Every program is different however, and you need to be sure to consult with the admissions department at each school.
Research the program length and the flexibility of online classes – schools are getting more and more flexibility with their class scheduling, especially for RN's that are currently working.
The IOM released evidenced-based recommendations recognize that patient needs have become more complicated, and that nurses must attain the requisite competencies to deliver high quality care.
Find an RN to BSN Program
Use the below tool by clicking on each tab to quickly find RN to BSN programs in your state, or to search accredited online RN to BSN programs that are currently accepting applicants into their program. Note that all of the programs we have listed are sponsored programs and do require an RN license to be accepted into their program.
+ Jump to More Online RN to BSN Programs
What is a BSN in Nursing?
Simply put, a BSN in Nursing is a Bachelor of Science in Nursing. A BSN degree is typically obtained by either graduating from a 4-year Bachelor of Science in Nursing program, or through the popular RN to BSN program. With a BSN, a nurse can work as a Registered Nurse as long as they pass the appropriate examination and other licensure requirements.
In recent years, the increase in interest in higher degrees has changed the way that people engage in university programs. The importance of higher degrees translates to a better career overall and provides a more financially stable lifestyle for those in the programs.
In the medical field, the need for educated professionals is constantly on the rise. Since educational standards have changed for nurses entering the field, many currently working in the field are finding it necessary to pursue a higher degree program. A further education sets the foundation for a long and successful career.
Continuing education is a must-have for those interested in keeping a career that provides for a lifetime. Nurses are no exception to this rule. As nursing professionals, individuals are constantly faced with an increasing number of graduates with higher degrees.
RN to BSN Programs by State
---
Who Should Enroll in an RN to BSN Program?
Since the RN to BSN programs are designed for current nursing professionals, nurses with an associate's degree in nursing are the most preferred candidates for them. These programs were created to be flexible according to a professional schedule and provide further knowledge in the scientific field of nursing.
The changes in the educational requirements for nurses opened the doors for universities to provide programs that build upon the knowledge that registered nurses already have, rather than requiring them to redo or re-enroll into the same lengthy program.
The Online RN to BSN Model

As a nurse currently working in the field, it can be difficult to find time to take college courses. A nurse's schedule is one of the most hectic throughout the field, making extra responsibilities even more difficult to maintain.
However, RN to BSN programs provide vast availability of day and night classes, making the decision to take part in the program fitting for any busy lifestyle. Different schools will offer varying start dates especially for the online model. A school like Grantham University might offer a variety of start dates and requires potential students to call in and see which dates are available. Other schools might have set dates lining up with traditional starts in the Fall and Spring.
The medical field is one that is constantly undergoing changes. Technology provides for more discoveries and more techniques throughout the field, making continuing education a wise choice for anyone throughout. Read on to learn more about what an Online RN to BSN looks like, including different student portal options based on program and the curriculum you can expect.
Learning in an Online Program Environment

The online learning environment is extremely important for an online RN to BSN program. We highly recommend you get a preview of what taking classes online looks like for any RN to BSN programs you are looking at. Remember, you will be taking classes entirely online, in your own home – you need to be comfortable with the lessons and information that will be delivered to you.
Unfortunately, not all nursing schools use the same software. Some software nursing schools use for their Online RN to BSN is proprietary, or their own. Many schools partner with an agency that specializes in Learning Management in an online learning environment.
There are multiple platforms, or software, that nursing schools use for their Online RN to BSN. The software systems used for an online learning environment are called Learning Management Software (LMS) Systems. There are a variety of different systems that nursing schools use across the United States. Blackboard tends to be one of the more popular LMS systems, and many nursing programs use it.
As we stated earlier, be sure to include a demonstration, or demo, of the online learning management system as part of your questions for the admissions department for your RN to BSN. It's important that you are set up for success from the beginning and that you are comfortable with how you will be learning.
The Hybrid Online RN to BSN
If you are apprehensive about solely engaging in online learning, you may consider hybrid programs. Although there are not as many hybrid programs, there are a few. It seems that most Hybrid RN to BSN programs have actually migrated into an entirely Online RN to BSN, because so many efficiences can be gained and because the Online RN to BSN is one of the most popular and most successful online nursing programs.
Some nursing programs claim themselves as "Online", but are actually hybrid programs. This means that while some classes are indeed taken online, you also have to visit the campus location (or a campus location) to complete some coursework. Typically this is more prominent in higher-level nurse practitioner specialties, but some RN to BSN programs have them as well.
RN to BSN programs are one of the most popular choices for nursing professionals, as it gives nurses a more prominent degree standing all while providing for a more comfortable way of life.
Typical BSN Classes You Should Expect to Take
Nurses have existing education in the general studies required for most Bachelors in Nursing programs. Most introductory courses in nursing provide knowledge in general fields such as biology, chemistry, and communication. At the associate level, nurses have the basic practicing knowledge that sets the foundation for an able professional. These programs are designed to give learners the experience needed at staff level in a variety of relevant fields.
Using lab experience and course instruction, educators give lessons pertaining to nursing science as well as practical experience. In most RN to BSN programs, the curriculum is designed to build on that existing knowledge to mold a more precise educated nurse.
While in the RN to BSN program, individuals will engage in courses such as Clinical Care Across the Lifespan, Complex Health Alterations, and Advanced Clinical Practice. These courses provide scientifically proven information that allows for nurses to provide only the best care to patients in medical facilities.
Additional courses within an RN to BSN program typically also include: Human Anatomy and Physiology, Professional Nursing, Developmental Psychology, and Nursing Research.
RN to BSN courses you may take are typically specialized courses – you might have to take some general education courses or other electives, and every program is different, so be sure to review the curriculum of any RN to BSN program you are researching.
---
Top Online RN to BSN Program Spotlights
To get a better understanding of what you can expect at some of the top RN to BSN programs, here are two that stand out. Both of these programs have their similarities and differences, which can show you how these programs can give students the same career outcomes while delivering their own unique approach to education.
University of Texas Arlington Online RN to BSN
The RN to BSN degree program at University of Texas Arlington, often referred to as UTA, UTA Online, or as the UTA RN to BSN Online, includes curriculum that is rooted in research-based learning, combined with a strong liberal arts and leadership skills. Not only can you qualify for higher positions in your organization with your BSN, but you can be better equipped to give quality care to your patients.
This program is geared towards helping graduates enhance their critical thinking skills, possess the qualities expected of management and supervisory roles, and understand data to be involved in drawing conclusions that will help improve care. Upon acceptance to this program, the university will send you a personal course plan. This outlines the courses you may have satisfied and which ones you need to take. They will work with you to create your schedule for each semester.
Students have many options for courses, including holistic assessment across the lifespan, health policy and legal aspects, pharmacology, statistical analysis, care of vulnerable populations, among others. Students also take a capstone course as their final course, which can only be taken with an elective or general course. Because of the intensity of the nursing courses, students are advised to only take one nursing course at a time while earning their BSN.
UTA Online is the number one producer of bachelor's level nurses in the state of Texas, with 19,000 plus students enrolled. Their academic research has been recognized by the National League for Nursing, and they also offer a wide variety of nursing programs for students on campus and online. The University of Texas Arlington is also supportive of graduates when they are pursuing professional roles. Among their other efforts to help students find careers, they host a job fair for students nearing the end of the program.
This program is 120 credit hours, with 12 credits per semester to be considered full time. Online versions of the program are offered at several start dates throughout the year. Students are allowed to work while in this program, but they are not encouraged to take more than 12 credits at a time, especially while employed. RN to BSN nursing courses cost $8,995.00, with general courses costing $168.00 per credit hour, with number of hours required based on previous education. This program is also accredited by the Commission on Collegiate Nursing Education.
If you are a registered nurse with your diploma or associate's degree, and at least two year experience in the field, you can choose the accelerated version of this program. Your GPA will also be taken into consideration.
Once you complete your RN to BSN, you can continue your education through one of UTA's graduate programs: Master of Science in Nursing, a post-MSN Nurse Practitioner program, and a PhD in Nursing program.
---
Western Governors University RN to BSN Program
Western Governors University offers a bachelor of science in nursing RN to BSN program that you can complete entirely online. In fact, the vision behind WGU is to offer students high quality, affordable college education in a convenient online format. Earning their RN to BSN degree can help you better understand and become proficient in several foundational areas of study, including: communication, psychology, human development, sociology, physiology, microbiology, and chemistry.
Courses focused on nursing theory and practice include care of the older adult, health assessments, nutrition understanding and management for populations, professional roles and values, evidence-based practice, and leadership. Your other core courses will focus on nursing science topics, such as organizational systems, information management, and application of technology.
To successfully complete this program, students must complete a minimum of 90 hours of practice in community assessments, simulations and other activities. Students also have a final project that makes them propose real solutions to problems relevant to the field of nursing with a goal of improving patient care.
WGU prides themselves on the fact they haven't increased tuition since 2008. They charge a flat rate each term, which incentivizes completing your degree efficiently. For students who take a 12 month path to graduation, you will spend a total of $6,500 to earn your degree. If you take the 24 month (two year) path to graduation, you will spend a total of $13,000 to graduation. WGU also states that their RN to BSN program is usually about "half the cost of other equally reputable nursing programs.
While many other programs can cost about $40,000, the average 2 year program at WGU can be less than $15,000 in total expenses. WGU's approach to online education has been recognized by many mainstream news sources, including CNN and the Huffington Post source. If you are looking for a way to continue working in your current job, and have self-discipline, a program like theirs may work best for you.
If you are looking for financial aid options at WGU, you aren't alone. 76% of their students receive a form of aid. They are also accredited by the Northwest Commission on Colleges and Universities. And all their bachelor's and master's level nursing programs are accredited by the Commission on Collegiate Nursing Education.
Once you complete this RN to BSN program, you can be qualified to pursue several positions in the field, including: staff nurse, clinical nurse specialist, flight nurse, nurse educator, school nurse, and others. According to the Bureau of Labor Statistics, these types of nursing careers are expected to grow 16% between 2014-24.
How Long Does it Take to Get a BSN in Nursing Through an RN-BSN Bridge Program?
Most RN to BSN programs are around two years in total length, however, some RNs that take classes full-time in an Online RN to BSN program can finish in as few as 13-15 months.
Regardless, most RN-BSN bridge programs are specifically designed for Registered Nurses, making the journey to a higher degree a short one for professionals currently working in the field. RN to BSN programs can also be attended in an online setting, which provides internet assisted instruction for those with busy schedules. These courses are just as informative, yet more flexible, than traditional learning programs.
Aspiring nurses can also get their BSN through a 4-year Bachelor's of Science in Nursing program, or through an Accelerated Second Degree BSN program, for those that currently have a Bachelors degree in field other than Nursing.
The RN to MSN and BSN to MSN
For those considering a more advanced degree, work availability is a huge factor in determining if the time is really worth the hard work that will go into furthering an education. Whether or not a degree will pay off is a huge determinant in making the overall decision to go back to college. Nurses at the associate's degree level are finding that more employers are changing their requirements for hiring nurses.
Some BSN programs at some nursing schools have other transition programs for you to continue your education with an RN to BSN to MSN, or a BSN to MSN program. You can also view RN to MSN programs to get your Masters of Science in Nursing.
In accordance to current educational standards, employers are changing their qualifications to specifically ask for higher level degree holders. A lot of medical facilities require that nurses have a bachelor's degree at the minimum.
Most of these facilities provide supportive services that will assist current professionals in obtaining a higher degree, which includes enrollment in RN to BSN programs. For those working in comfortable careers, the need for advancement may not seem like a necessity, but with the change in times, the requirements for currently employed Registered Nurses could change as well.
Career Opportunities for Nurses with a BSN
RN to BSN programs provide existing registered nurses with an educational opportunity that can truly change their quality of life. It can be discouraging to realize that all of the hard work that went into an original nursing program is no longer accepted by current educational standards. RN to BSN programs are a highly effective means of getting a degree that can pay off throughout a lifetime.
RN's can work in a variety of places: Government, hospitals, home healthcare services, offices of physicians, and Nursing and residential care facilities are some of the more popular places of employment (BLS).
The rigorous training and in-depth education received throughout the duration of these programs will provide for well-rounded professionals that are fit to work in many different settings. Patient care and nursing science are the main topics found within the RN to BSN program, adding to the existing experience that registered nurses have obtained.
Registered nurses are constantly in demand, making this a career choice that will be profitable and well-maintaining for years to come. These programs give professionals everything needed to be the most knowledgeable professional available.
In just a couple of years, associate level nurses can advance their degree and begin searching for careers that are fitting for their higher degree programs. Higher degrees open up better career opportunities as well as better wages.
What a Nurse with a BSN Does
For many years, nurses have been the center of the medical field. Providing direct assistance to doctors, they are the heart of the personal care received in medical facilities. Nursing is a very complex career that includes administering tests, communicating with patients, and implementing emergency care. Without nurses, many medical facilities would not be able to function with the high rate of patient intake.
According to the Bureau of Labor Statistics, the overall average income for bachelor's level nurses in the United States is $67,490 per year, as of 2015.
In a profession that is so demanding on its staff, individuals are finding that continuing education is a necessity when new techniques are released. This field is one of constant learning, adding to the importance of higher degree programs.
There are a number of different training programs that nurses are required to take part in, most of which are covered within RN to BSN programs. Without the information learned within these programs, nurses may not be up to date in the latest trends in nursing.
Typical Workplace Settings for Registered Nurses
Nurses are found in a variety of different settings. From some of the largest hospitals in the country to very small businesses, nurses are around every corner. Having a higher degree will provide even more opportunity for employment throughout the medical field. Specialty nurses in athletics, education, and research are needed to provide care in many diverse settings.
Implementation of therapeutic techniques are effective in athletic settings, maintaining current physiological health for athletes. In a school setting, nurses oversee student health and provide care to students with illnesses and injuries. Nurses are needed to provide care to athletes in education and professional sports.
In private settings, nurses can provide care to individuals suffering from cancer, respiratory diseases, or even those recovering from surgery. A nurse is an important part of any medical facility, providing much needed care to patients. Employers are looking for qualified professionals with the most prestigious degree. Having an associate's degree is not always enough to provide the most representative proof of experience and education.
RN's can work in a variety of places: Government, hospitals, home healthcare services, offices of physicians, and Nursing and residential care facilities are the top 5 places an RN can work. See the below chart for the average salaries of an RN for the corresponding healthcare employment facilities (from the BLS).

Best Areas for Registered Nurses with a BSN to Work
Different regions of the United States provide different positive attributes to those in the nursing field. Choosing a university can be completed by researching programs, accreditation, and reputation.
Different universities may be more flexible in scheduling, which could also contribute to a nurse's choice. Researching the different aspects of each RN to BSN program can be a wise choice for those interested in getting back into a degree program.
However, choosing a place to settle into a career can be a little more complicated. After completing an RN to BSN program, nurses typically try to find an area that is in need of qualified professionals.
Due to supply and demand, some states are more providing for registered nurses than others. For those searching for career opportunity in the northeastern United States, states such as Maine and Rhode Island have an existing demand for nurses. This makes it more likely that bachelor's level registered nurses will find a position quickly. Other states such as Georgia and Arizona have a large demand for nurses, making the states reliable places to find a career.
The HRSA report states that 16 states will likely have a shortage of nurses through 2025. One would assume that would mean there are more nursing jobs in those areas. You can click on any state to view RN to BSN programs in that state.
Registered Nurse Salaries
The ability to earn as a registered nurses varies on location. The nursing field has always been a well-providing choice for those interested in the medical field, making salary influence a big part of a nurse's decision to get back into school.
Wage rates for registered nurses can vary widely depending on what region of the United States is considered. Conducting research into the preferred working area can prove to be financially beneficial for those exiting the RN to BSN program.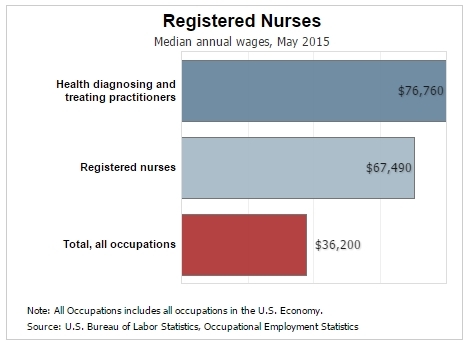 Depends on location
According to the Bureau of Labor Statistics, the overall average income for bachelor's level nurses in the United States is $67,490 per year, as of 2015. BLS reports show higher averages in California, at $98,400, and Massachusetts, at $85,770.
Mean wages are affected by different factors such as cost of living and demand for nurses. Regardless of which region of the U.S. is chosen for a degree programs, there are career opportunities available at a high rate. As more and more nurses leave the field into retirement, the need for nurses will continue to grow.
For those currently in the field that are searching for a more profitable career choice, furthering a degree in nursing is an excellent choice.
Nursing and the Emergence of Technology in the Industry
As the nation progresses in technology and innovation, the medical field will only grow to be a more providing field for professionals. The nursing field is an extremely important part of healthcare.
Individuals of all backgrounds rely on nurses to provide direct care in their time of need. In their most vulnerable situations, patients trust that nurses will give them reliable, trustworthy information and provide them with the most highly-regarded care.
It takes a truly qualified professional to be an effective nurse. For those with the drive to succeed and the desire to help people, a career in nursing is the perfect fit. Since the requirements have changed so dramatically in recent years, nurses are having to work harder to provide the appropriate credentials for employment all across the country.
Hospitals are requiring higher degrees for initial hire and nurses currently working are being pushed back into school. Nurses that have the drive to be the very best in their field are entering into RN to BSN programs in order to better their careers and their lives overall. The decision to pursue a higher degree is one that will direct affect quality of life and financial security. There are programs available throughout each state to help current nurses get the education they deserve.
Why Are Employers Looking for Nurses with a BSN Degree?
A BSN can open many doors in the nursing profession. You can work in hospitals, as 60 percent of RNs do, or you can work in almost any other area of healthcare that has a need for nursing skills or expertise.
Nurses with BSNs also hold education or management positions, work as consultants, or use their specialized knowledge to work in a private business or the public sector. Having your degree is the first step toward furthering your education—such as earning an MSN, Ph.D., DNP, or entering advanced practice as a nurse practitioner, clinical nurse specialist, nurse midwife, or nurse anesthetist.
RN to BSN programs can be found at four-year colleges or universities. According to the American Association of Colleges of Nursing (AACN), 633 programs are available in the U.S. and they are growing in popularity in response to demand.
These programs can be one to two years in duration, depending upon the individual institution's requirements. More than 400 programs have at least a partial online component, and some offer family- or work-friendly schedules such as weekend or evening classes.
The most common admission requirements are having an RN license, and having a certain amount (approximately 60 to 80) of qualifying transfer credits from your previous training program. Your GPA is considered, as is your work experience.
Some colleges may also require you to complete non-nursing classes that are required for a bachelor's degree such as English, sociology, or history. The program's nursing classes focus on topics such as critical thinking, leadership, ethics, and social/cultural issues in healthcare. Aside from core content, you also may need to complete an independent project or research paper.
The biggest advantage of RN to BSN programs? Depending on your work experience, you may be able to waive clinical classes and graduate quickly.
---
The RN to BSN: Advice from Registered Nurses
Getting Your RN to BSN: Challenges and Choice
Written by Kelli Dunham, RN, BSN
Kelli is an RN with 15 years of clinical nursing experience and the author of 4 health/health professions related books, including the American Journal of Nursing Nursing Book of the Year, How to Survive and Maybe Even Love Nursing School (FA Davis, 2008, 3rd edition).
The biggest concerns for most nurses considering an RN to BSN program are cost-related: not just the financial cost, but the amount of time it takes to get an advanced degree and the costs to one's personal commitments to family and community.
There's no question that these these can be real challenges, especially for the working nurse. But by considering the many options within the RN to BSN path, and finding the best fit for your personal situation, an RN to BSN program can be surprisingly manageable.
Cost of a BSN Program
Calculating Cost: Financially
Written by Kelli Dunham, RN, BSN
If you're considering an RN to BSN program, there's a good chance money is part of the equation, especially if you're in a geographical area where pressure is on for nurses to be bachelor's prepared at all practice levels.
Donna Luongo, a Pennsylvania nurse and recent RN to BSN grad explained her choice to return to school shortly after graduating with her associate's degree: "Every med/surg hospital in my area is magnet so it is virtually impossible to get a job without BSN."
The nursing workplace is often the driving force for the RN to BSN quest, and it's also the first place to consider turning for financial help. If you're already working as an RN, your facility may offer some kind of money for school, whether it's a standard tuition reimbursement plan or a workplace based scholarship.
Before you use the workplace reimbursement, it's important to check exactly what strings are attached to make sure using the benefit will actually benefit you. For example, if you're working in long term care and your facility offers a $2000 a year tuition reimbursement but requires a two year working commitment after you graduate, this might not be a bargain.
If tuition assistance isn't available from your current employer sometimes a simple lateral move might provide substantial financial help in getting your BSN. For example, if you're a primary care nurse in an office practice, you might be able to change to a university based office practice and benefit from higher rates of tuition reimbursement or even, in some cases, tuition remission.
Additionally, workplace-based aid is certainly not the only help you can get financially for an RN to BSN program. If you don't already have a bachelor's degree in another field, you will still be eligible for federal financial aid for undergraduates.
Finally, before you commit to a program, make sure you calculate any relative hidden costs. For example, a program at a university closer to your home or workplace might be more expensive than another program the next town over, but the commuting costs might offset the difference.
Time Commitment for BSN Program
Calculating the Cost: Time
Written by Kelli Dunham, RN, BSN
If you are employed as a nurse either full or part-time you may well be coming home exhausted and wonder "how could I possibly add school to my schedule?"
Fortunately, RN to BSN programs are created specifically for working professionals, so if you look hard enough, there's a good chance you can find a way to fit school into your schedule.
If you're worried about overall time spent working on a program, make sure to investigate programs that offer credits (either by testing or portfolio) for life experience and continuing education. If you graduated with your associate's degree in the last few years, check to see if there are any university programs that have matriculation agreements with the college that offered your original degree. This will save you time in completing added pre requisite courses.
More and more programs are offering online options for classes, and these can be great time-savers because it shrinks your commuting to class time to the few minutes it takes your laptop to boot up. Realistically consider your computer skills before you choose a mostly online program. If you're not actually comfortable using all the technology that's required it may cost you more time than you were hoping and may be a source of frustration as well.
Juggling Family / Community Commitments for RNs
Calculating the Cost: Juggling Family and Community Commitments
Written by Kelli Dunham, RN, BSN
The growth in online education has been a huge gift to busy nurses on the RN to BSN path. Jennifer Little, a recent RN to BSN grad, said that "the factor that weighed the most heavily in my program choice was West Chester University offered a new online program, which required me to go onto campus for class only three times in a semester. I liked this feature because I have two small children at home."
Not all online programs are created equal, and some are more flexible than others. Keep in mind that even if you aren't required to physically be in class at certain times, you may be required to be cyber-present in a specific time frame to participate in, for example, class video discussions. You'll have to assess how each program's requirements fits with your responsibilities.
Even if online or partially online programs don't work for you or you can't find one you like, there are options to make the work/school/family juggling act more manageable. For example, some universities offer classes at the workplace, often timed to shift changes. While it might be overwhelming to think of attending a lecture on nursing theory as you leave your 7 pm- 7 am shift, the extra coffee you consume might be worth it if you get to have dinner with your kids.
LPN vs. RN vs. BSN
Written by Meaghan O'Keeffe, RN, BSN
Pursuing a degree while already shouldering work and life responsibilities is a major decision not to be taken lightly. Raising children, caring for aging parents, mortgages, and a slipping economy all present challenges when thinking about going back to school.
When you decide to go back for your BSN, and even throughout the process, you're inevitably going to ask yourself the question: "Is it worth it?"
Keep this post in your textbooks, tape it to your bathroom mirror, and display it on your refrigerator. Because the answer is unequivocally and resoundingly, "YES!", and here's why:
Greater scope of practice
RNs enjoy a greater level of autonomy than LPNs. Although the scope of practice varies from state to state, many LPNs are not able to give medications, provide treatments, or triage medical situations. You already have the-on-the-job knowledge, but having those letters—R—N—after your name enables you to practice nursing to the extent you always dreamed of.
More job opportunities
It can be difficult to find jobs in most acute care settings with an LPN license. According to the Bureau of Labor and Statistics, there were approximately 2.7 million RN jobs in 2010, compared with only 700,000 LPN positions. A growing number of hospitals, particularly those with Magnet status or those who are pursuing Magnet status, show preference for hiring BSN educated nurses. When it comes to upward mobility within a facility, like getting a promotion, a nurse with a Baccalaureate degree is more likely to be considered a competitive candidate.
Better Patient Care
Some studies indicate that BSN prepared nurses have better patient outcomes, although critics say there are other factors not accounted for such as prior qualifications and degree of experience. These studies aside, the increasingly complex healthcare landscape requires nurses to have well-developed analytical skills and an ability to coordinate complex patient care. A Bachelors degree education can prepare a nurse for the greater demands being placed on nurses today, with a focus on critical thinking and evidence-based practice.
Better pay
RNs with their BSN make an average of $25,000 more a year than LPNs. With the cost of a 4-year degree averaging around $10,000-12,000 per year, you'll still win out from a financial standpoint. When times get tough, keep your eyes on the prize—it will pay off in the end.
Getting Your BSN Means You Are Helping To Shape The Nursing Profession
In 2010, the Robert Wood Johnson Foundation in partnership with the Institute of Medicine wrote a manifesto of sorts, a call to arms for the nursing profession. In this tumultuous healthcare age, with a nursing shortage looming and a need for leaders in the field, there is a push for nurses to obtain a Baccalaureate degree to level the healthcare playing field. Just deciding to go back to school is a major personal accomplishment for some. Completing a degree is monumental. But consider this: Your personal accomplishment is also a great achievement for the nursing profession as a whole.
List of Programs
Still Looking for a Nursing Program?
Here are some of the most popular nursing programs. On each page you will find a detailed writeup of the program, specific courses, and even schools that offer that program that are currently accepting applicants.