Consider one of the following online programs currently taking applications now:
View more online featured programs:
AD
Consider an Online Program Currently Accepting Applicants
View more online featured programs: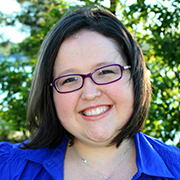 Brittney Wilson, BSN, RN, also known as The Nerdy Nurse, is a community manager for Next Wave Connect.  Her nursing specialty is Clinical Informatics. In her day job she gets to do what she loves every day: Combine technology and healthcare to improve patient care. She can best be described as a patient, nurse and technology advocate, and has a passion for using technology to innovate, improve and simplify lives, especially in the healthcare arena. Brittney is the author of The Nerdy Nurse's Guide to Technology and she blogs about nursing, technology, healthcare, parenting, fun things to do in Atlanta, Georgia and various lifestyle topics at thenerdynurse.com. You can also connect with her on twitter @TheNerdyNurse or Facebook The Nerdy Nurse.
Can you explain your current position at Next Wave Connect for us?
Sure! Currently I am a Community Manager at Next Wave Connect. It is an online community for people in healthcare to share information and resources. It is very much like a social collaboration platform.
What were you doing before Next Wave Connect?
Well, I was working as a clinical informatics nurse at a hospital in Georgia. In this position I was making sure the needs of both sides (patient and nurse) were being met. It involved a lot of analytic work and care for the computers. Many people ask me why I left nursing, and I don't feel like I actually left my nursing career. I'm just doing something a little different. While I wasn't caring for patients in the traditional sense, my patients were the nurses. Helping them feel more confident and more empowered to care for their patients was a main part of my job.
Can you explain your roles and responsibilities in the Community Manager position at Next Wave Connect?
Absolutely! A lot of what I do is relationship building. I manage clinical integration and I manage all kinds of different kinds of healthcare communities. Part of my efforts are to find people who are experts in these different fields so other people seeking advice can have this information available to them. I also find and create unique content for these specific communities. It's a bit of marketing, social media and a lot of relationship building. It's all problem-solving and I find that I use RN assessment in just about everything I do.
What influenced you to go into the healthcare field?
I always feel hesitant to give this answer, but since I'm a honest person I'll tell you! I originally went into healthcare because I wanted to be a plastic surgeon. I really like that aspect of healthcare that made people happy. I liked plastic surgery because the end result made somebody happy. It really enhances their quality of life and was the only area of healthcare where that I saw that happening directly. Once I was in school I ended up hating my chemistry class so I took a detour and ended up in a nursing program. It was extremely hard and I wasn't sure if I was ready for it, but then I realized that nursing is truly a part of healthcare that deals with improving quality of a patient's life. We make their existence and their time in the hospital as best as it can be.
You run the extremely successful blog "The Nerdy Nurse," can you tell us what inspired you to start blogging?
I started blogging when I was fresh out of nursing schoolI broke my leg, got married, my mother passed away, and I started my first nursing job. It was a very emotional time for me, and being a nurse is the most stressful job you can possibly have. I was being picked on – bullied – by a lot of nurses at work who I felt wanted to make my life miserable. That bullying at work was what bothered me the most. So I started a blog where I basically complained about those issues for a while. But, then I realized that complaining wasn't the answer and I turned it around. So I started writing about resources for nurses. I really just wanted to share; I'm a big sharer and I think if I know something, other people should know it too. I'm a big proponent of continued learning and knowledge. I was always a big fan of technology, and I wanted to focus on things I was passionate about and that's how I branded it the Nerdy Nurse. Our topics are about healthcare, technology and nursing.
Why do you think it's so vital for those in the health professions to be on social media?
We all have a voice and we need to share our opinions about things. Too many people stay quiet, but our opinions are valuable and we need to stop keeping information to ourselves. Use your frustration constructively and find resources to make it better. Find somewhere someone can help you make a difference or help you cope with it. Social media gives us the ability to change the world in a way we never had before. I think healthcare in general has been terrified of social media, but we are starting to cross the threshold where we aren't afraid of it. But, that being said, we need to be careful about what we say on social media – always be professional and appropriate.
Is there any advice you'd give aspiring nursing student?
Be confident. I would say the biggest challenge is that they doubt themselves. There's a fine line between confidence and arrogance so you need to make sure you don't cross that line. But don't be so timid and doubtful to where you don't do things that are right. Take a chance and enjoy nursing school, it may be hard but there are great chances to make lifelong friends. Become incredibly empowered with technology, and if you aren't 100 percent  confident about it do everything you can to get comfortable. That's where healthcare is heading. That's what I wrote about in my book the Nerdy Nurse's Guide to Technology!
Still Looking for a Nursing Program?
Here are some of the most popular nursing programs. On each page you will find a detailed writeup of the program, specific courses, and even schools that offer that program that are currently accepting applicants.